Of all the Valentine's Day crafts, decor, and recipes that come my way these days, I feel the most inspired by the photos in Craftberry Bush's Love Mantel….
♥♥♥
I just love that all this beautiful frivolity was pulled together with simplicity, frugality, and an eco-mentality! Now that's right up my Sofia's Ideas alley! I can't wait to put our tablescape together using some of these photos as inspiration!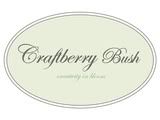 To see the all the pictures and links to Lucy's tutorials for this, click here.
If you decide to visit, follow, or subscribe to Craftberry Bush, I hope you'll let Lucy know that Sofia from Sofia's Ideas sent you! 🙂
What about you? What are some of your favorite Valentine's Day posts as of late?